click for source
DISCLAIMER: Plain opinion and some facts ahead. No synopsis provided. You might want to research for that first, it's all over the internet.
I never saw the trailer or any movie review of it before hitting the silver screen last weekend with the hubby. If not for the significant attention it got from Cannes Film Festival, I wouldn't be so intrigued about the film. This is my first movie review and I'm so glad and honored that I'll be doing it for no less than
Erik Matti's On The Job
.
It's been quite a while since I last got so intensely affected by a movie. If I'll be honest, the last time I shed tears & applaud while in a standing ovation for a Filipino film (not that I have done so to any foreign films) was during my college days, in UP Film Institute, after the cinema lights were turned on and while the credits were being rolled for
Ora Pro Nobis (Fight For Us), a political thriller film by Lino Brocka
. It's a breath of fresh air to experience another piece of
almost
the same quality, this time a crime thriller.
I'll try my best not to spill more than necessary beans here. I love watching local films. I might have seen almost every Star Cinema movies released out there, including all the John Lloyd-Bea, John Lloyd-Sarah, anything Anne Curtis, anything Jericho Rosales, et cetera. However, I'm not big when it comes to indie films. Not that I don't find them interesting nor high quality. Let's just say that I'm not used to seeing genitals and private parts on the big screen and I try to keep myself away from those. I've heard from friends that
most
indies have that; emphasis on
most
. In this regard, On The Job is not exactly an independent film. Borrowing Matti's term, it's
"maindie"
-- a mix of mainstream and indie. It's apparent just by the mere glance at the top-billed cast -- Gerald Anderson & Piolo Pascual.
It was co-produced by Matti's Reality Entertainment and ABS-CBN's Star Cinema.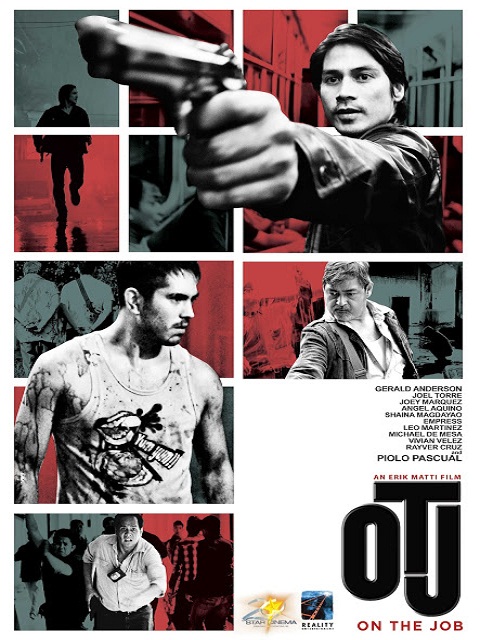 click for source
Up to the moment I'm writing this entry, my emotions are still taking over my sanity so you have to bear with the kind of content I'll be able to produce. If I have not mentioned yet, this is my first movie review and already for something this big! Now let's discuss why I think this nifty movie is worth your every cent and time.
1.
The movie kept me asking questions.
This is the one thing that made me love the movie. It kept me interested. It made me feel like I'm such a fool not to understand immediately what's going on in each scene. It made the audience watch more closely, making sure no details will be missed. Truth be told, I still have some questions in mind even after the credits had rolled. I like movies that make me think.
2. It kept me on the edge of my seat. Almost literally. This happens when you are too eager to know the answers to your questions. OK I won't baby you here just like the film didn't me. The scenes were brutal and bloody. The transition is rather fast-paced. And I have never heard so many curses in my life; I was plain bombarded and helpless. However, I was made to realize how real the story was. Every scene slaps you with no less than the reality, which leads me to the next point.
3. It opened my eyes.
I guess this movie is just too timely. With everything that's going on with our country right now -- the pork barrel issue, Janet Lim-Napoles's wealth, involvement of the big names from the Senate and Congress -- you just can't help but feel bitter each time reality is shoved down your throat. That's what this movie did. I entered the cinema house a naive young newly-wedded adult and I came out a woman forced to accept that behind those government official's lousy shiny desks are filthy transactions and bloody assassinations.
Realization: Things that are too much to bear are the things we need to accept the most. Otherwise, it will always be a life of free movie tickets and free miles by your credit card -- a life of lie.
click for source
4. Joel Torre was plain excellent.
To be fair, he's not the only one with the impressive performance. All of them really showed their talents. Everyone was in character you almost forget they are actors faced with different issues in real life. I just thought Joel Torre really stood out. He was so effective that until now I have to remind myself that he's Joel Torre and not "Tatang" (his character). Erik Matti made the right choice of sticking with him for this particular role. Gerald Anderson conveyed the character of "Daniel" so well. I felt his excitement to level-up as a hit man and he has effectively established the kind of emotional attachment he has with "Tatang". Piolo as "Francis" was another interesting portrayal. The battle in his conscience and his drive to do the right thing was so convincing I couldn't imagine a better actor to play it.
5. Awkward scenes were not awkward.
Don't get me wrong. This is a world-class movie but it's far from flawless. There were times when cursing didn't come out naturally. I mean, seriously Gerald Anderson and Joey Marquez? Who stutters when swearing? Isn't it the part of your sentence in which you're most articulate when emotional? Obviously, Gerald could have practiced it more. Or fine, let's give it to the guy. Tagalog is not his first tongue, anyway. Also, the bed scenes were not your usual. I must admit it was awkward when I didn't know who's chest was being focused (I'm talking about the "Daniel "and the "girlfriend" scene inside the motel). Then I was reminded that this wasn't a.. what do you call those again? Bold movie? So yeah, crime and corruption is the film's focus; not sexuality and sex.
On The Job
left me with mixed emotions. The greatness of this movie could be a good news on one side. Yes, Filipinos can do such a masterpiece and yes we can exhibit side by side with the more expensively produced foreign films. However, the other side is that this is a true story being flashed right before your eyes. While you're proud we can create such a work of art, on a deeper level we are being reminded of how polluted the institutions we supposedly trust are. And there, folks, is your double-edged sword.
Have you seen the movie yet? How did you find it?